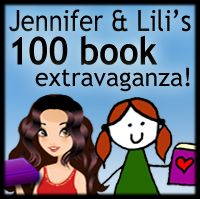 As the title above clearly suggests, Jennifer and I are going to be having a 100 book extravaganza giveaway from November 1 - November 30. Why are we having this giveaway? Well, there's many reasons. First of all, my 6 month blogoversary is November 20th, so this is my blogoversary giveaway. Secondly, we want to promote the book recycling program that we run together entitled ARCycling. We take ARCs and give them new homes. Thirdly, Jennifer is a book hoarder (that I love very dearly) so we need to clear some of her shelves. We combined our books, though Jennifer did donate many, and realized we have over 100 books to give away, hence the name.
But really, this giveaway has a ton of other names also including:
Lili's 6 Month Blogoversary Giveaway
ARCycling Awareness Giveaway
Jennifer Has Way Too Many Books Giveaway
Here's how everything is going to go down...
We have 11 different prize packs for you, all ranging from 8 - 15 books. Each post will go up at 12:01 AM on their designated day this month and giveaways will end at midnight on November 30th. All giveaways are US only, except for one which is CA only. Some will have age requirements as well. Please pay attention to giveaway requirements so we can avoid disqualifying anyone. Some prizes will also have some personalizations. Many don't, but we will point out which ones do. But really, this is an opportunity to add a ton of books to your shelves, are personalizations really going to stop you?
The schedule is below. To see the actual books in each prize pack, you must check out their respective posts.
We hope that everyone will enjoy our celebration kicking off tomorrow!
The only required tasks will be to follow both myself and Jennifer because this is an ARCycling promotion giveaway.