Well, hello there! Welcome to the final stop on The Twixt Guided Tour! We're here today to see the Glendale Oak, which has great significance not only for The Twixt but also for the town of Glendale. More about that in a minute, though! Right now we're waiting on our host, Inq, to join us. She must be around here somewhere - just look for a goth girl with all-black eyes and calligraphy slithering over her skin. Yeah, you heard me correctly. I never promised she would be human!

She really should be here by now, though. Perhaps if we look over by the Oak...
Psst. Psssssst! Yeah, you. Peek-a-boo! You looking for me? Or someone who looks like me? Ink told me that you've been sniffing around looking for bits of the Twixt so I thought I'd meet you halfway. Hmm? Oh. Call me "Inq," "Invisible Inq," "Mistress Inq" or "Hey there, Sexy!" Frankly, I prefer the last one best.

Okay, so, tour stop: that's Joy's school. It's big and brick and boring. I mean seriously boring. I've been inside! I can't believe you guys make it through four years of sitting still listening to constant droning and believe that somehow prepares you for life in the real world. The only thing droning prepares you for is being a drone. Life's too short, for you humans especially. I say you should grab life by the throat and kiss it full on the lips.

But enough philosophy, let's talk about…hm. How about the Glendale Oak? That's this tree right here on the front lawn. This big, beautiful tree's been mangled by idiots carving names and dates on its skin for a couple of hundred years, and what nobody remembers is that this living thing marks an important physical landmark; this is part of the Glen. The original Glen, where magic first took root on this piece of land mass and somebody way-back-when knew that, hence why this town's called Glendale. There's magic here—you can feel it. It's no wonder that we found Joy around here, one of those rare humans born with the Sight. Truth be told, she's not the only special snowflake in the neighborhood, but that's something for me to know and you to find out! Aren't surprises fun?

Hm. What else? Honestly, I can't think of anything and already, I'm bored. How about a change of scenery? You up for it? C'mon! Take my hand, hold your breath and when I say go, you go. Watch the space between my fingers—when the world stops bubbling, just step on through and presto! We're here!

Ah, that's better! Kick off your shoes, dig your toes in the sand and I'll grab us a couple of umbrellas. You want a Coke or something? I'm dying for some ice cubes. And there's a handsome candidate to rub oil on my back. Stay here, I'll be right back.

Relax, take a load off, grab a towel, have some fun—life doesn't get any better than this!
...What a wonderful tour! Did you catch the final code word? Enter it below to win the grand prize! And be sure to check out the rest of the stops and collect all the code words
because you don't want to miss out on the special digital prize! How to collect it will be announced next week.
Well, I think we might as well take Inq up on her offer, don't you? Why don't you take that beach chair, and I'll take this one. Oh, can you pass me the suntan lotion?
Dawn Metcalf has always lived on the edge between reality and magic, which explains her current profession and love of fantasy books and games. Her passions include karate, fairy tales, Victoriana and dark chocolate, often combining one or more of them in unexpected ways. Currently, she lives with her husband and family in northern Connecticut. If they had a sign, it would be: Confounding the Neighbor Children Since 1999. Dawn's current Young Adult series with HarlequinTeen, The Twixt, has four titles: Indelible (July 2013), Invisible (September 2014), Inviolate (June 2015), and Invincible (May 2016). She debuted with a Young Adult standalone, Luminous (June 2011,
Dutton Juvenile
).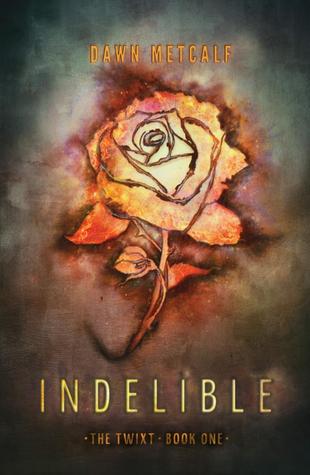 Title: Indelible (The Twixt #1)
Release Date:
July 30, 2013
Summary:
Some things are permanent.
Indelible.
And they cannot be changed back.
Joy Malone learns this the night she sees a stranger with all-black eyes across a crowded room—right before the mystery boy tries to cut out her eye. Instead, the wound accidentally marks her as property of Indelible Ink, and this dangerous mistake thrusts Joy into an incomprehensible world—a world of monsters at the window, glowing girls on the doorstep, and a life that will never be the same.
Now, Joy must pretend to be Ink's chosen one—his helper, his love, his something for the foreseeable future...and failure to be convincing means a painful death for them both. Swept into a world of monsters, illusion, immortal honor and revenge, Joy discovers that sometimes, there are no mistakes.
Somewhere between reality and myth lies…
THE TWIXT
Title: Invisible (The Twixt #2)
Release Date:
September 30, 2014
Summary:
Some things lie beneath the surface.
Joy Malone wants it all: power, freedom and the boyfriend who loves her. Yet when an unstoppable assassin is hired to kill her, Joy learns that being the girl with the Sight comes with a price that might be too high to pay. Love will be tested, lives will be threatened, and everyone Joy knows and cares about will be affected by her decision to stand by Ink or to leave the Twixt forever.
Her choice is balanced on a scalpel's edge and the consequences will be more shattering than anyone can know.
Enter this Tour's code word (underlined in the text) into the form below and
collect all 6 code words to win the Grand Prize Pack!
US & CAN only | Must be 13+ to enter | Contest runs 10/7-10/30
For full giveaway details and rules, see the Tour Kick-Off post
here.
a Rafflecopter giveaway
Be sure to follow the rest of the Tour!

I am so happy to be a part of this tour and to finish it

off with a bang! We hope you enjoyed it. (: